Grintuss Adult Syrup
DRY, CHESTY, ACUTE AND PERSISTENT COUGHS
SOOTHES COUGHS, PROTECTING THE MUCOSA
MEDICAL DEVICE 0377 Read the warnings and instructions for use carefully.
180 g bottle with teaspoon | approximately 132 ml
Directions for use
Take 2 level teaspoons of the product, two to four times a day, taking the last dose before going to bed. Shake well before use. After use, close the bottle tightly and wash the teaspoon thoroughly. The product can also be taken for extended periods. However, if symptoms have not resolved after 14 days of treatment, it is also advisable to seek medical advice.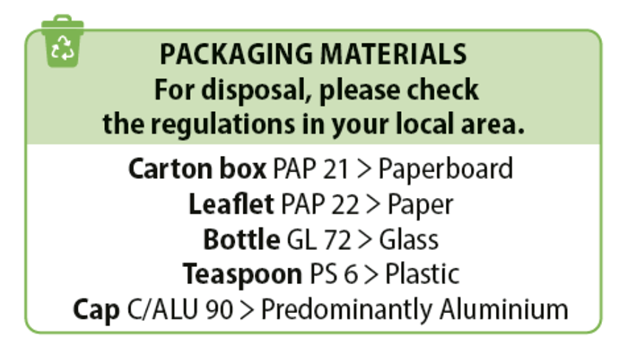 Composition
One level teaspoon (5 ml) of product contains: 80 mg of the plant-based complex Poliresin®, composed of Polysaccharides, Resins and Flavonoids (LPME extractive fraction of Ribwort Plantain*, Grindelia* and Helichrysum*); 1.7 g of Honey*; Cane sugar*; Water; Eucalyptus, Star Anise and Lemon essential oils; Natural Lemon aroma; Gum Arabic and Xanthan gum.
*Ingredient from Organic Farming
Grintuss Adult does not contain any synthetic, semi-synthetic or genetically modified substances and the production processes used to manufacture it do not employ solvents or any other chemically synthesised substances.
Does not contain preservatives or artificial sweeteners.
The extractive fraction contained in the product is achieved through a technological process called LPME (Liquid-Phase Microextraction), a technique developed through Aboca research.
Warnings
Do not use in case of individual hypersensitivity or allergy to one or more components.
Please read the package leaflet for further information.
Scientific evidence
Learn more
Grintuss Adult syrup is a medical device composed of Poliresin® - a plant-based complex - and Honey that acts both during the dry cough phase, counteracting inflammation of the mucosa, and during the mucus phase, promoting hydration and removal of mucus from the upper airways. Its formula does not contain artificial substances and its ingredients are biodegradable and organically grown.
INDICATIONS

Grintuss Adult syrup is indicated for the treatment of both dry and chesty coughs in adults and adolescents from 12 years of age. It is indicated for both coughs in the acute phase and for